Parkes's Encyclopaedia of Locks and Builders Hardware describes lock furniture as "The fittings required for the operation of a lock or to complete the finish at the lock position on the door. The set may range from a pair of handles mounted on plates together with a spindle for a mortice lock, to no more than a plain keyhole escutcheon for a rim dead lock".

Of door furniture the Enyclopaedia says: "This term usually means more than lock furniture, as finger plates, door closer, etc. may be included".

This furniture was not usually made by the earlier lock makers nor by the later smaller lock makers. It was usually made by hardware manufacturers or by some of the larger lock makers, especially those whose business was, in any event, wider than only lock making. In order to offer wholesalers and retailers a complete range of lock and door furniture some manufacturers had items made for them by other manufacturers and sold them under their own names.

Amongst Vaughan's products were finger plates to match their highly decorative rim lock: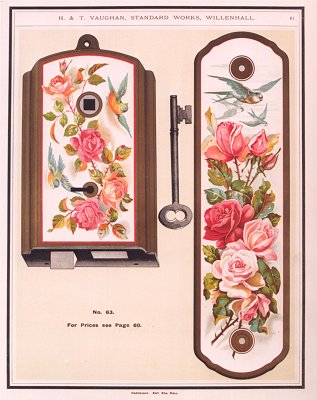 Here are just a few examples of the enormous range offered by James Gibbons, starting with a basic window catch.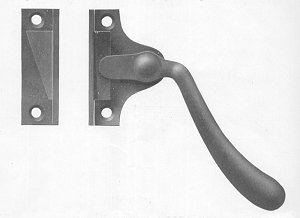 Clearly Gibbons were trying to provide furniture which covered every possible range of styles, from the modern to the medieval.
Humphrey J. Fox is an example of a large lock manufacturer offering furniture to complete a range. Some of the furniture which was offered with their Century brand was made for them by others as this extract from one of their brochures shows:-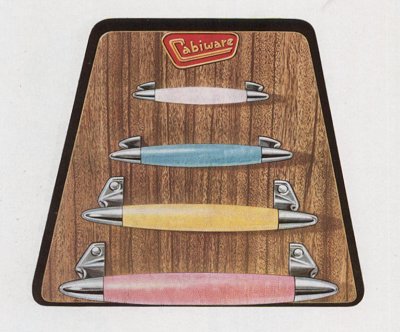 ---